Dr. Laimui (Amy) Yeung is committed to providing quality in dentistry. She uses the latest in dentistry techniques to provide you with a beautiful and healthy smile. Additionally,Dr. Yeung believes strongly in education to prevent oral health problems before they occur, and makes sure to keep patients fully informed about their dental health. Read more about Dr. Laimui (Amy) Yeung below.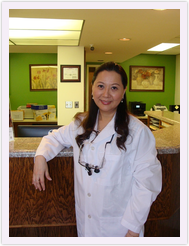 Laimui Yeung DDS, MAGD
Dr. Laimui Yeung, or Amy as most of her friends call her, graduated from the University of the East with a degree of DDS in 1990. Dr. Yeung and her family moved to Bakersfield from Hong Kong in 2005. She has been working as a dentist in Bakersfield since 2007. Dr. Yeung is a member of the American Dental Association, California Dental Association, Kern County Dental Association, Academy of Cosmetic Dentistry and a Fellow of the Academy of General Dentistry. When not practicing dentistry, Dr. Yeung enjoys attending continuing education to enhance her knowledge in different dental fields, reading and spending her leisure time with her two boys.